Download the National Homeschool Day of Prayer Activity Guide. Sign up for free below.
First Friday of November
Please join us and other homeschoolers across the country as we:
Give thanks for the freedom we have to homeschool our children,
Pray for homeschooling families in your own nation and around the world,
Pray for upcoming elections and the impact they may have on homeschooling,
Pray for your state's homeschool organization and its leaders.
Pray for your elected officials to recognize that the education of children is the responsibility of the parents, not that of the nation,
Pray for your own family—your homeschooling journey and the Lord's guidance as you take that journey, your relationships with one another, your own children and their futures, as well as seeking ways your family can minister to others,
Rejoice in God's mercy and His faithfulness in all things.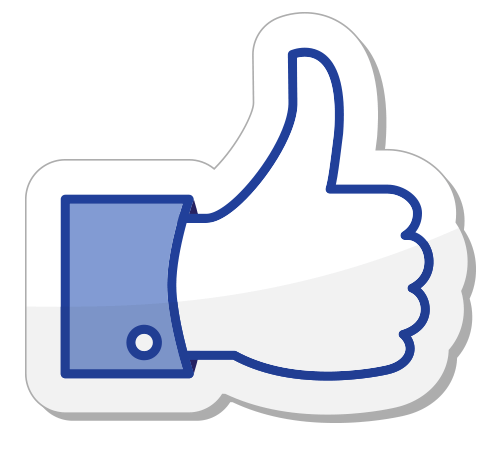 Homeschool Freedom Facebook Page
Join us on the Homeschool Freedom Facebook page all year long for encouraging news, links, and information supporting  homeschool freedom and celebrating the success of home education.
On the first Friday of November each year, Homeschool Freedom hosts the National Homeschool Day of Prayer. We post hourly prayer prompts on the Homeschool Freedom facebook page throughout the day and have a variety of special guests who come on to pray live and share an encouraging word.
FREE ACTIVITY GUIDE - National Homeschool Day of Prayer
2023 Activity Guide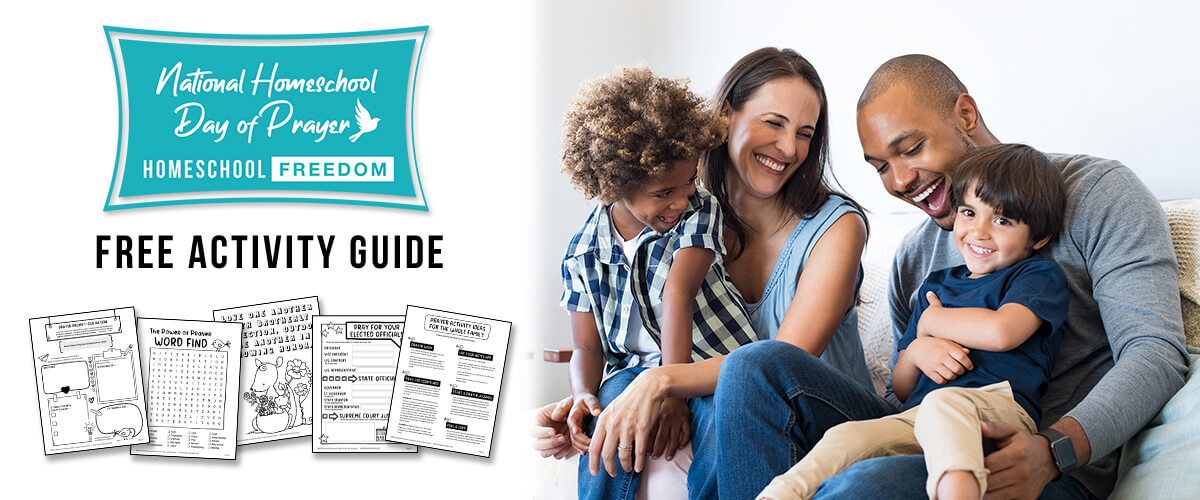 FREE DIGITAL DOWNLOAD
Subscribe to the Homeschool Freedom email list using this form and receive your FREE 2023 Activity Guide for National Homeschool Day of Prayer. This 50-page digital download includes prayer prompt worksheets, Bible verse coloring pages, activity and puzzle pages that you can print off to enjoy with your kids or grandkids, and prayer activity ideas for the whole family.
PRIVACY NOTE: We respect your privacy. We will not share or sell your contact information. By subscribing to this email list, you will receive periodic emails pertaining to homeschool freedom along with information about the National Homeschool Day of Prayer.
INVITE YOUR FRIENDS to sign up for their own copy of this year's activity guide. This free digital download is available to Homeschool Freedom email subscribers for personal use only. Please do not share, publish, or distribute this PDF.
If you have any questions or run into any issues downloading your free activity guide, please contact us at resources@homeschoolfreedom.com.
Hourly Prayer Prompts
In this section, you'll find this year's prayer prompt graphics, which will go live one per hour starting at 10:00 am Eastern Friday, November 3. Follow the Homeschool Freedom Facebook Page or check this page each hour for the hourly prayer prompts. (You may need to refresh this page to see the prayer prompt images as they go live here.)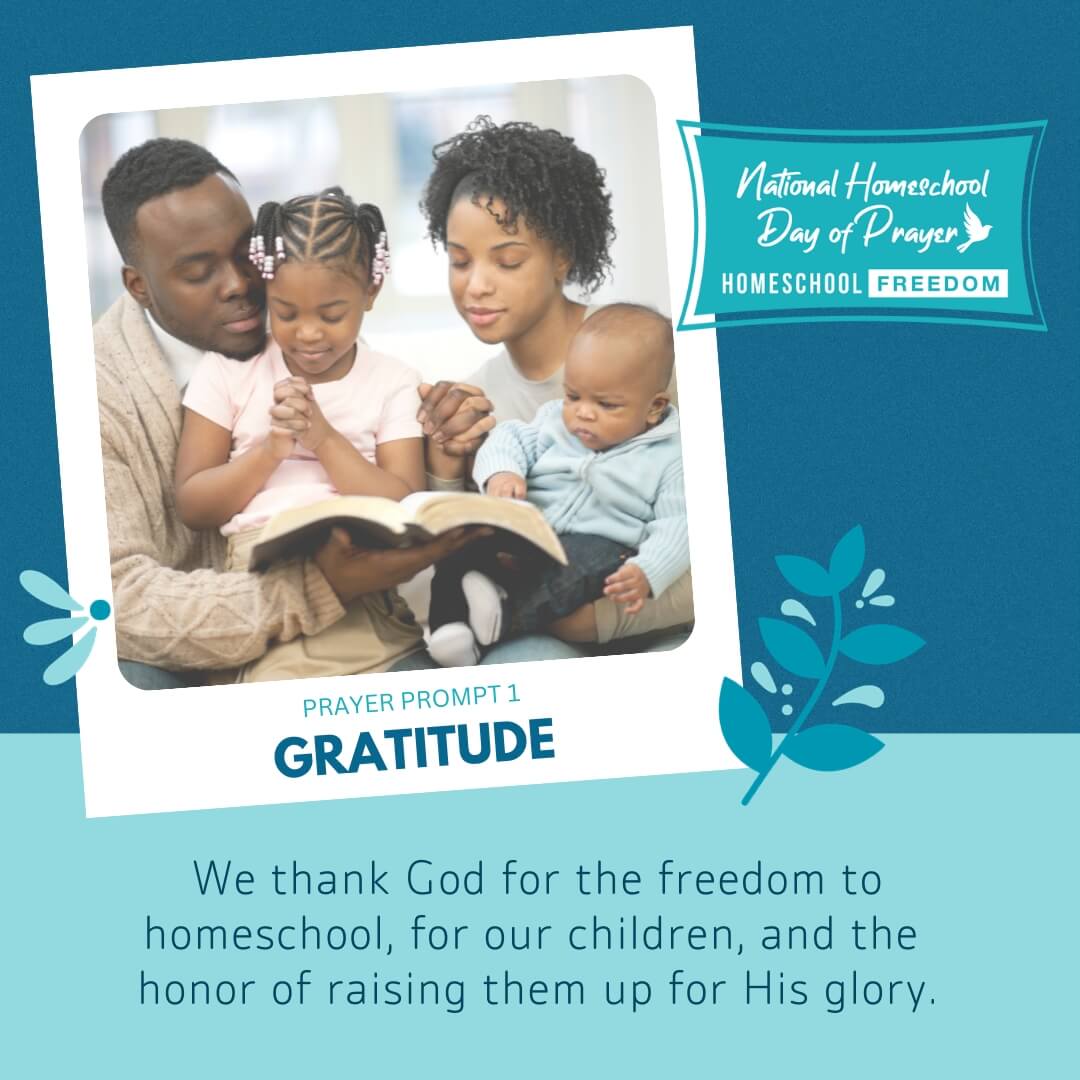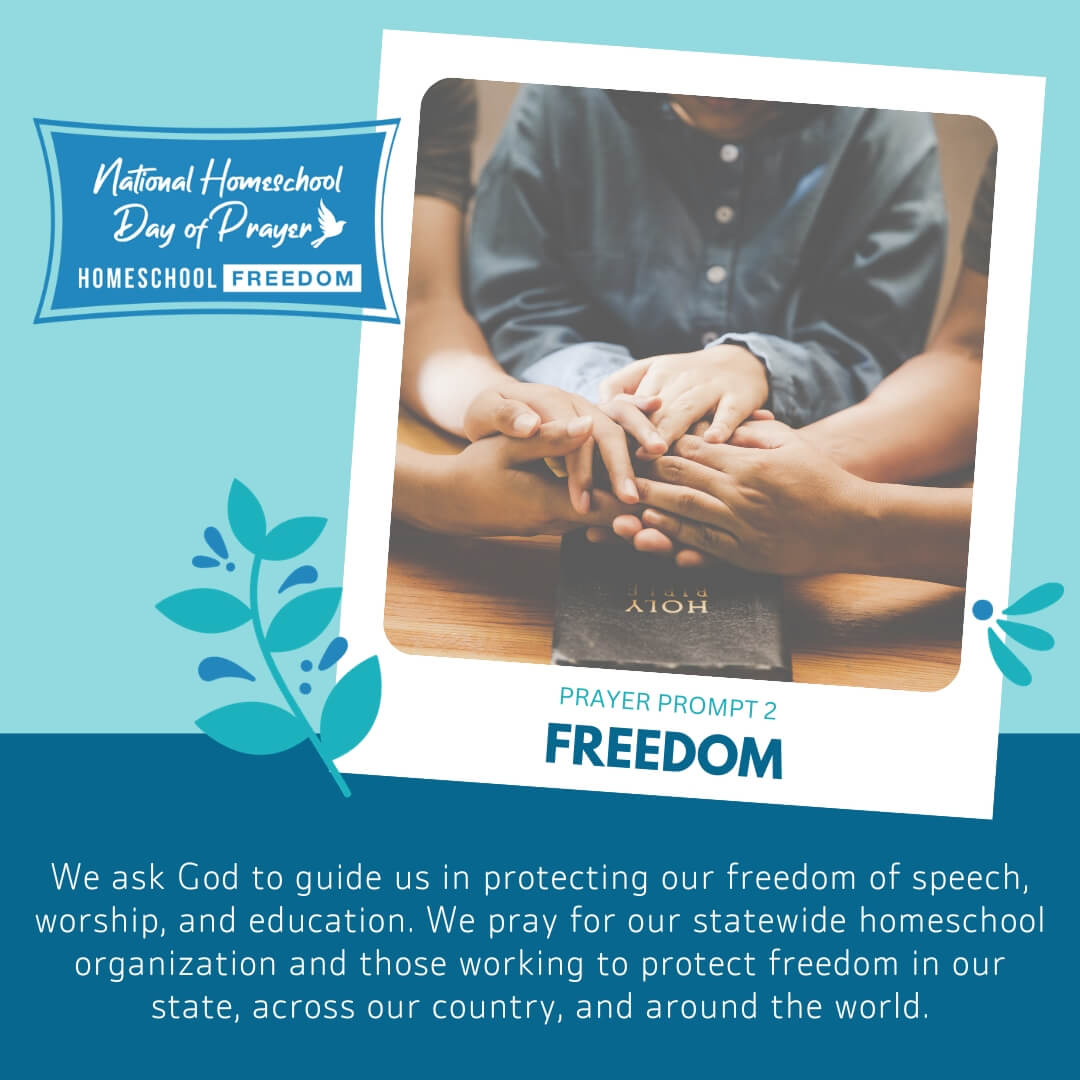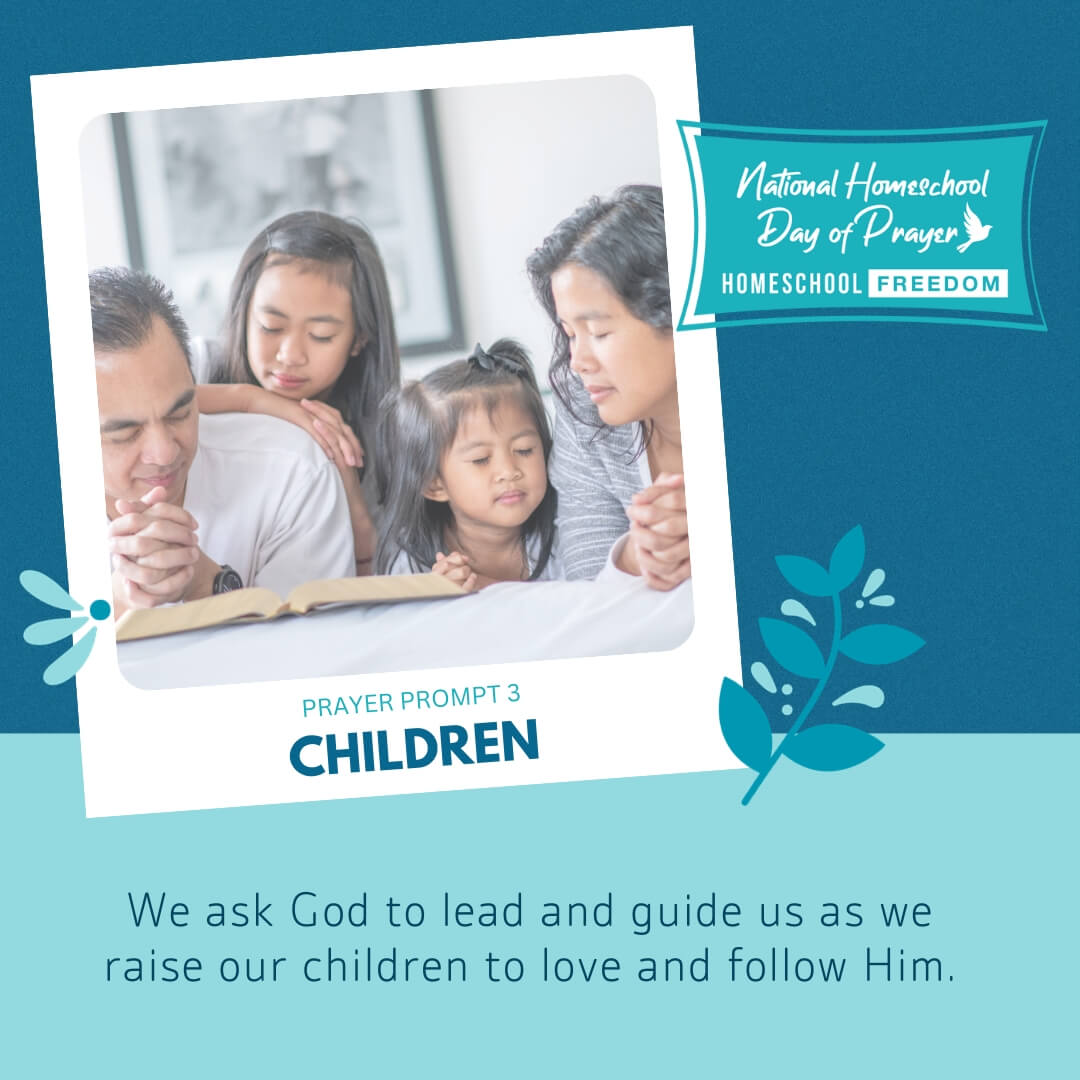 Prayer Prompt 4
Our Witness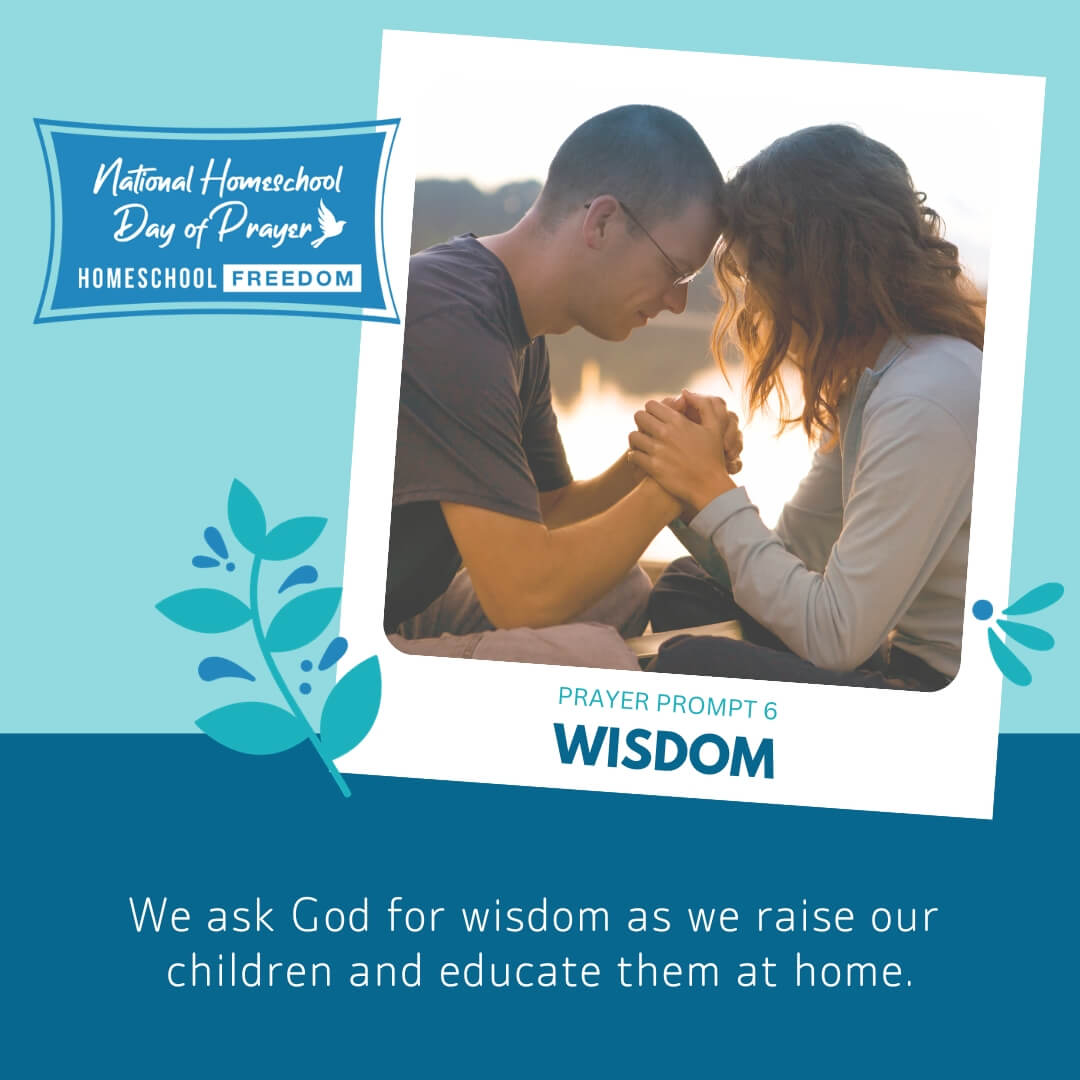 Prayer Prompt 7
Protection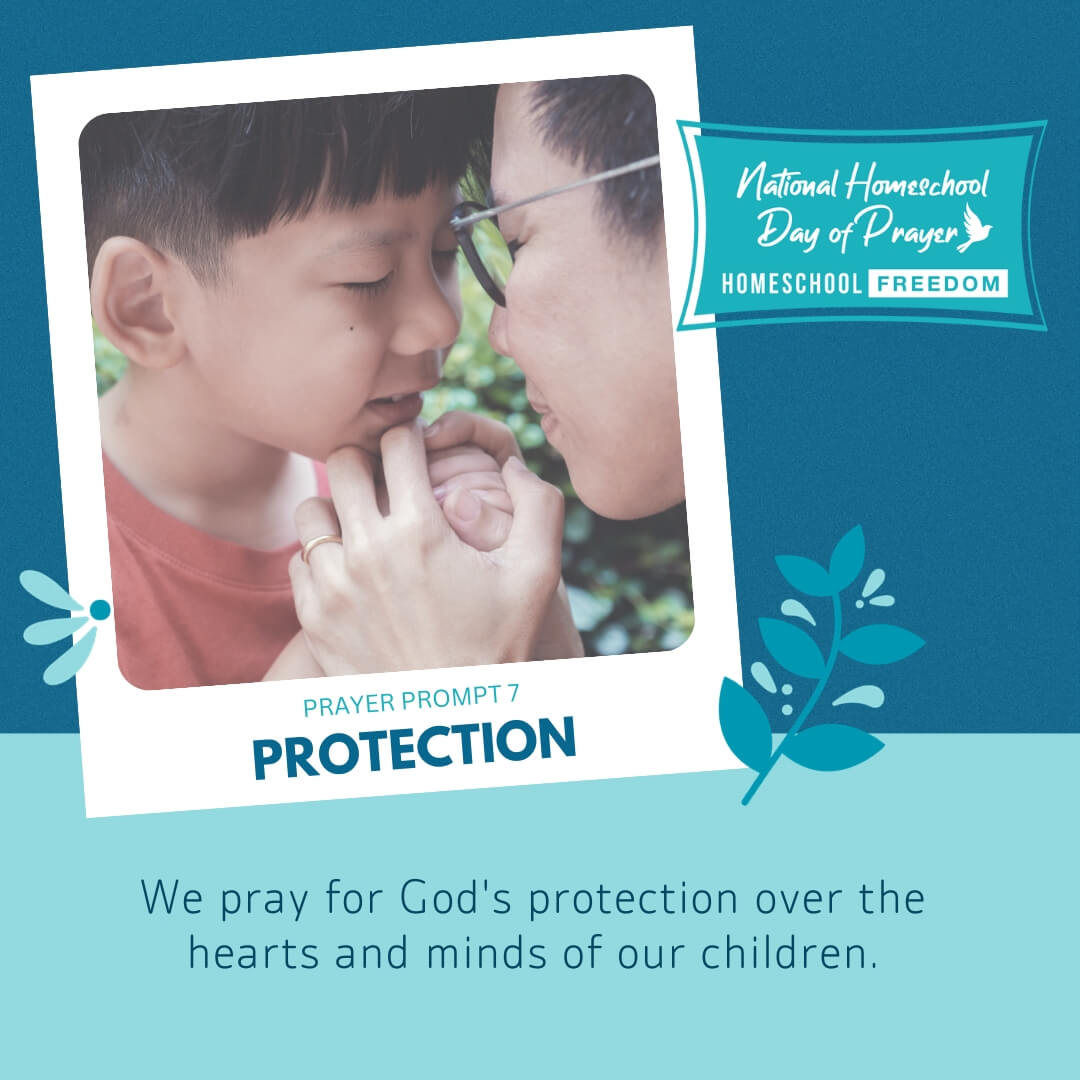 Prayer Prompt 8
Grace-Filled Homes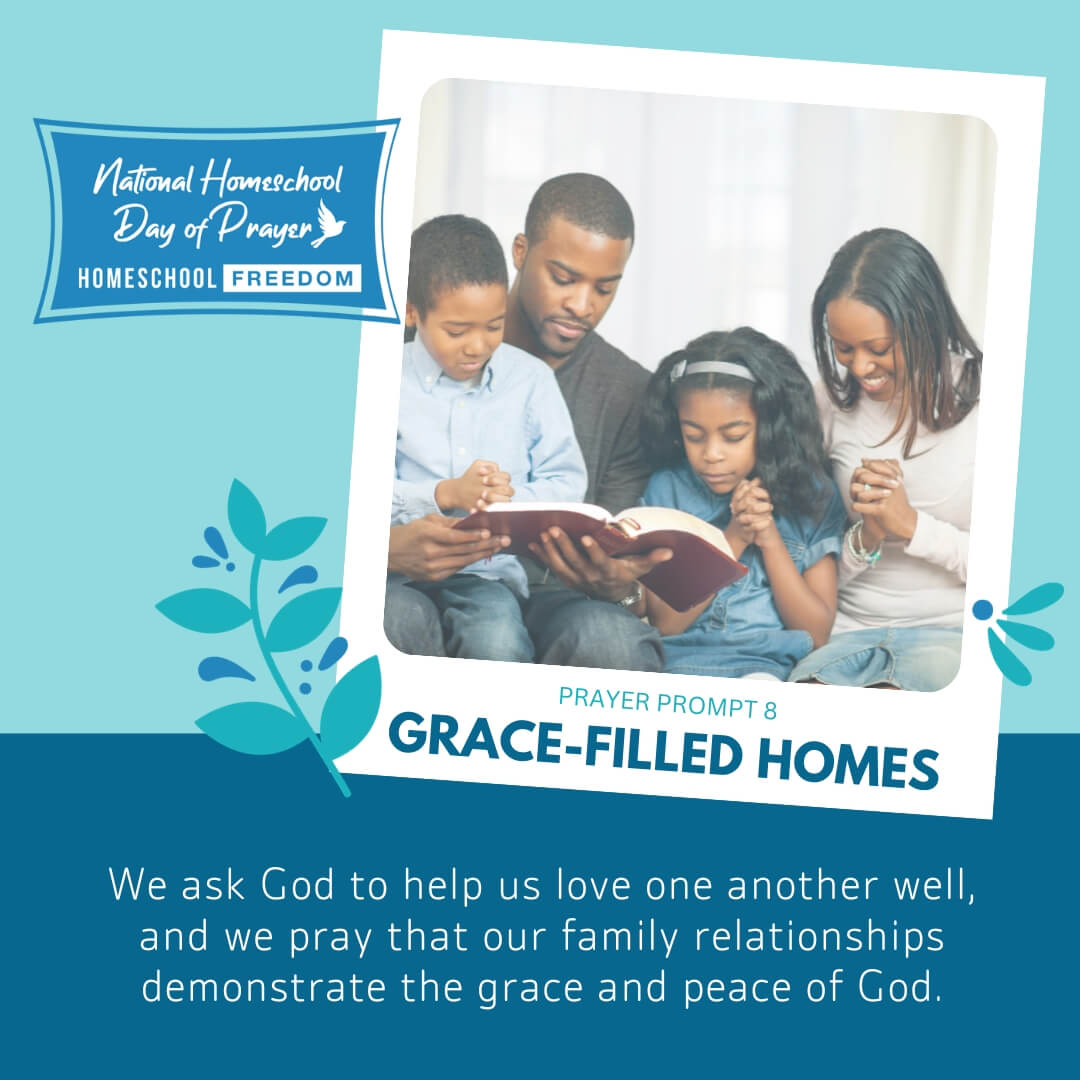 Prayer Prompt 9
Our Ministry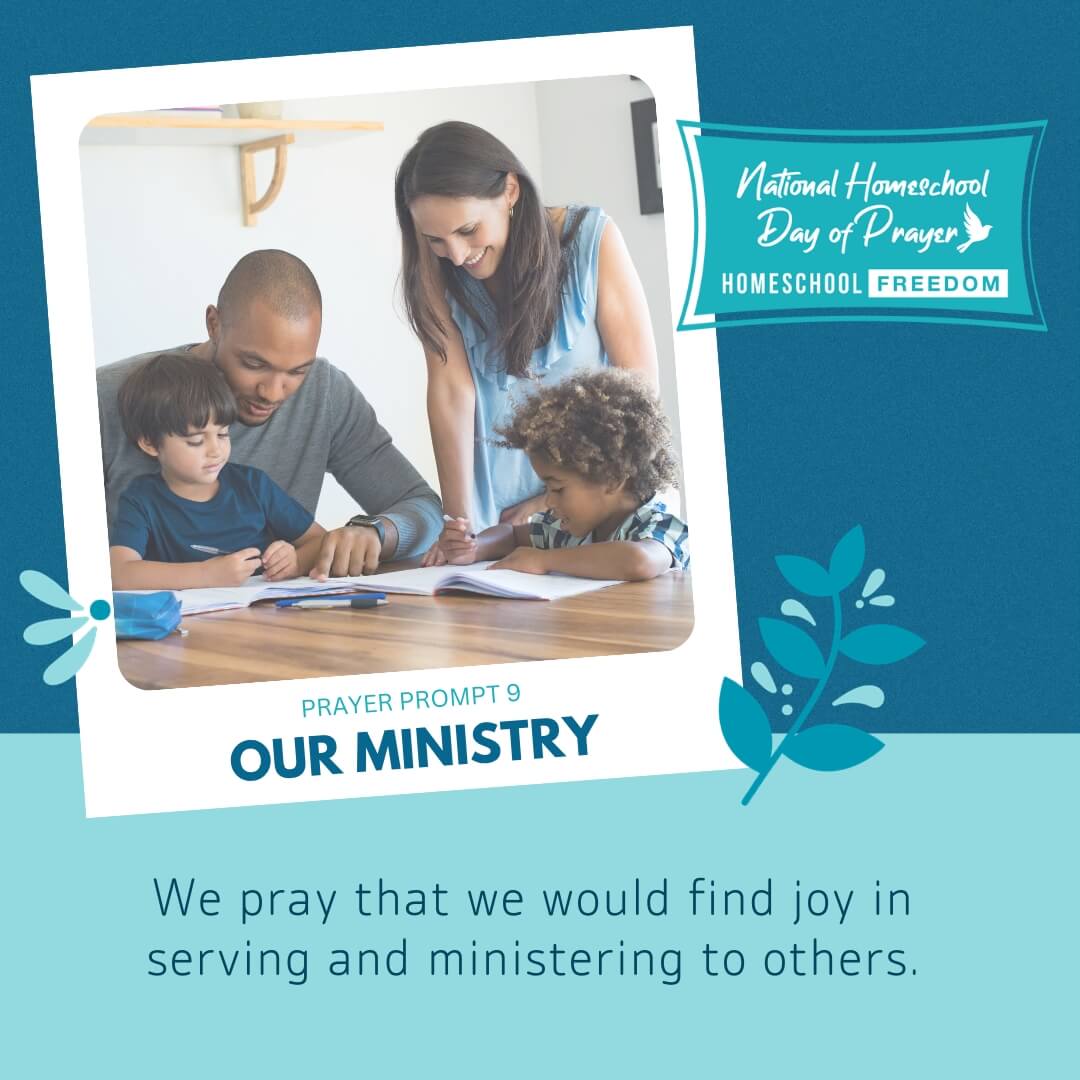 Prayer Prompt 10
Strong Relationships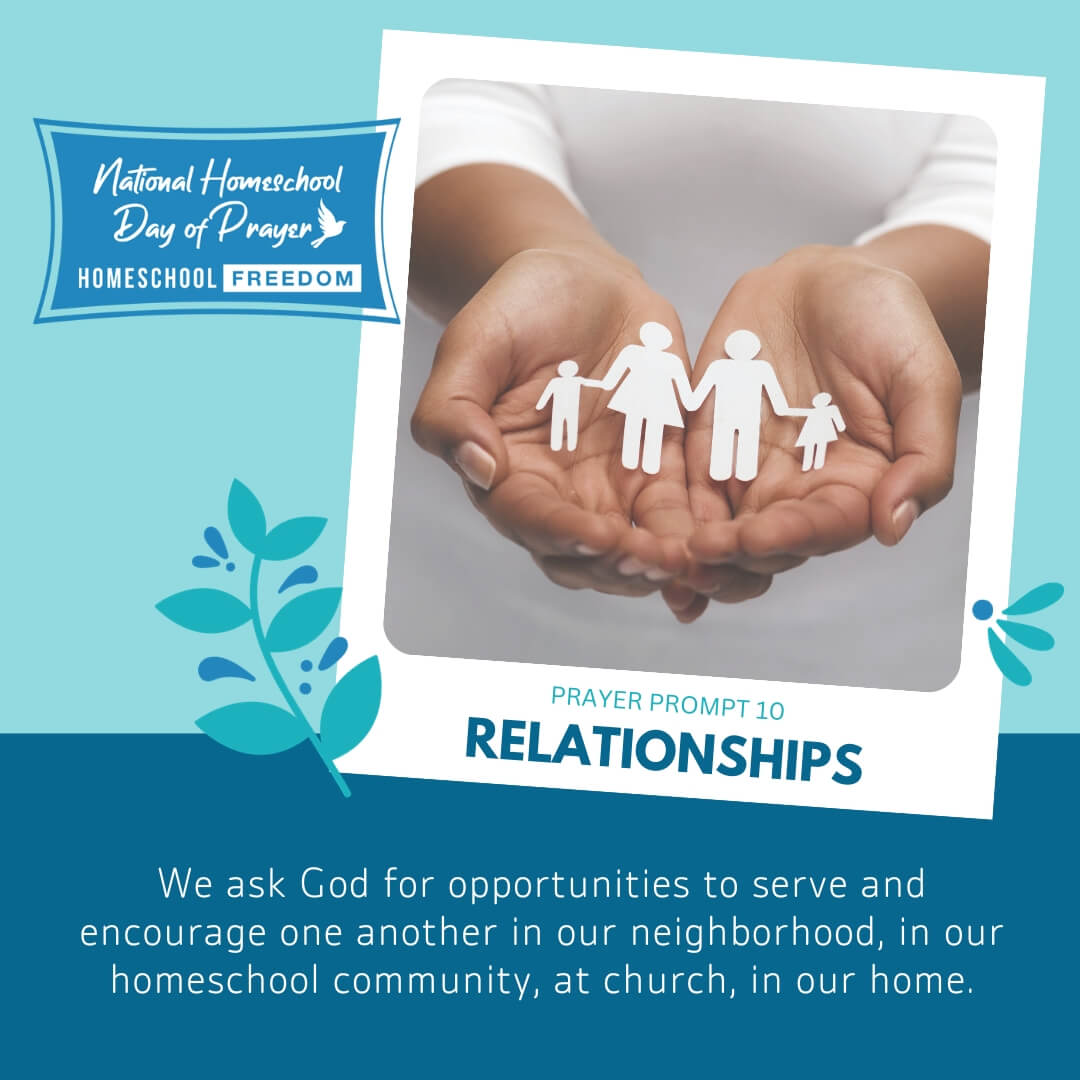 Prayer Prompt 11
Our Nation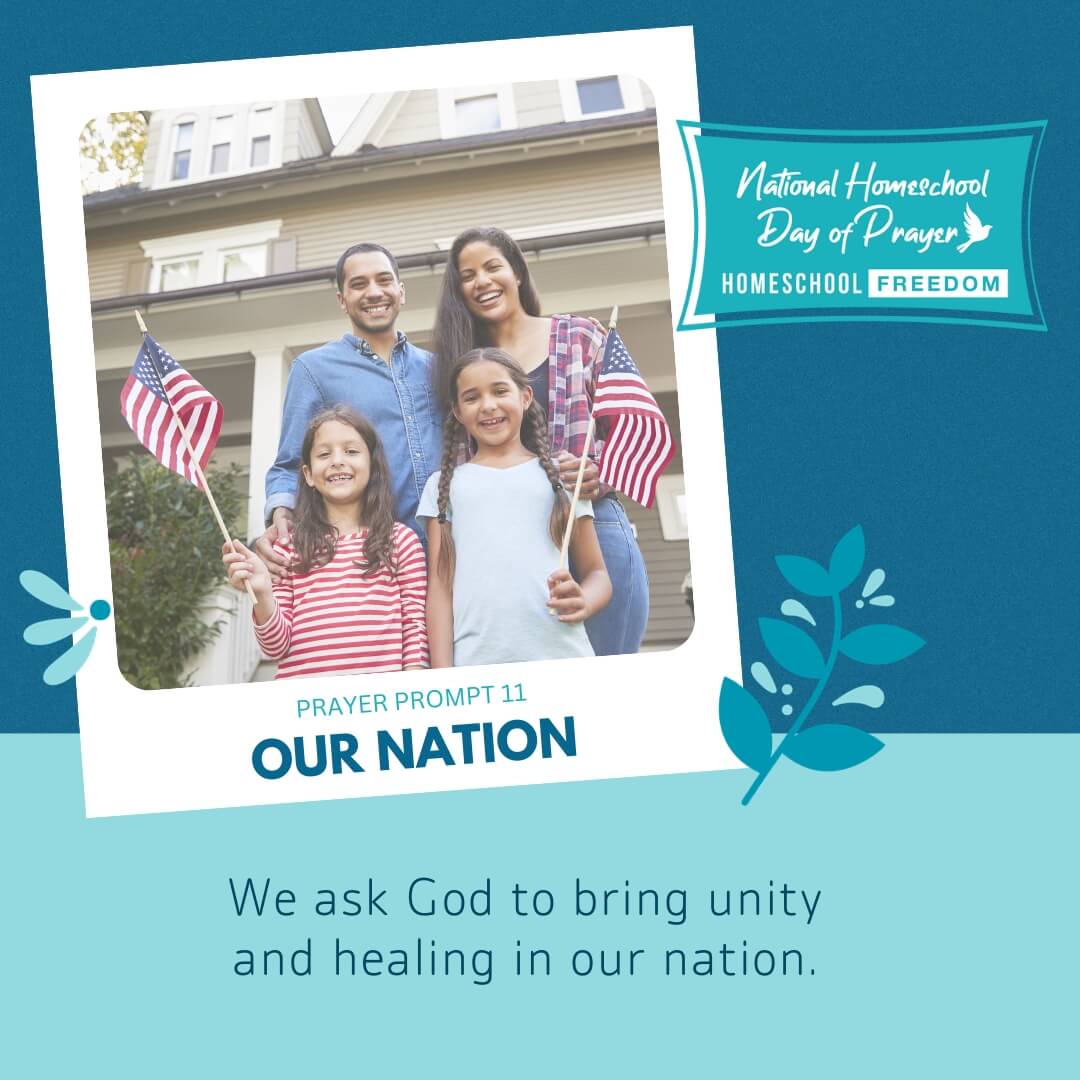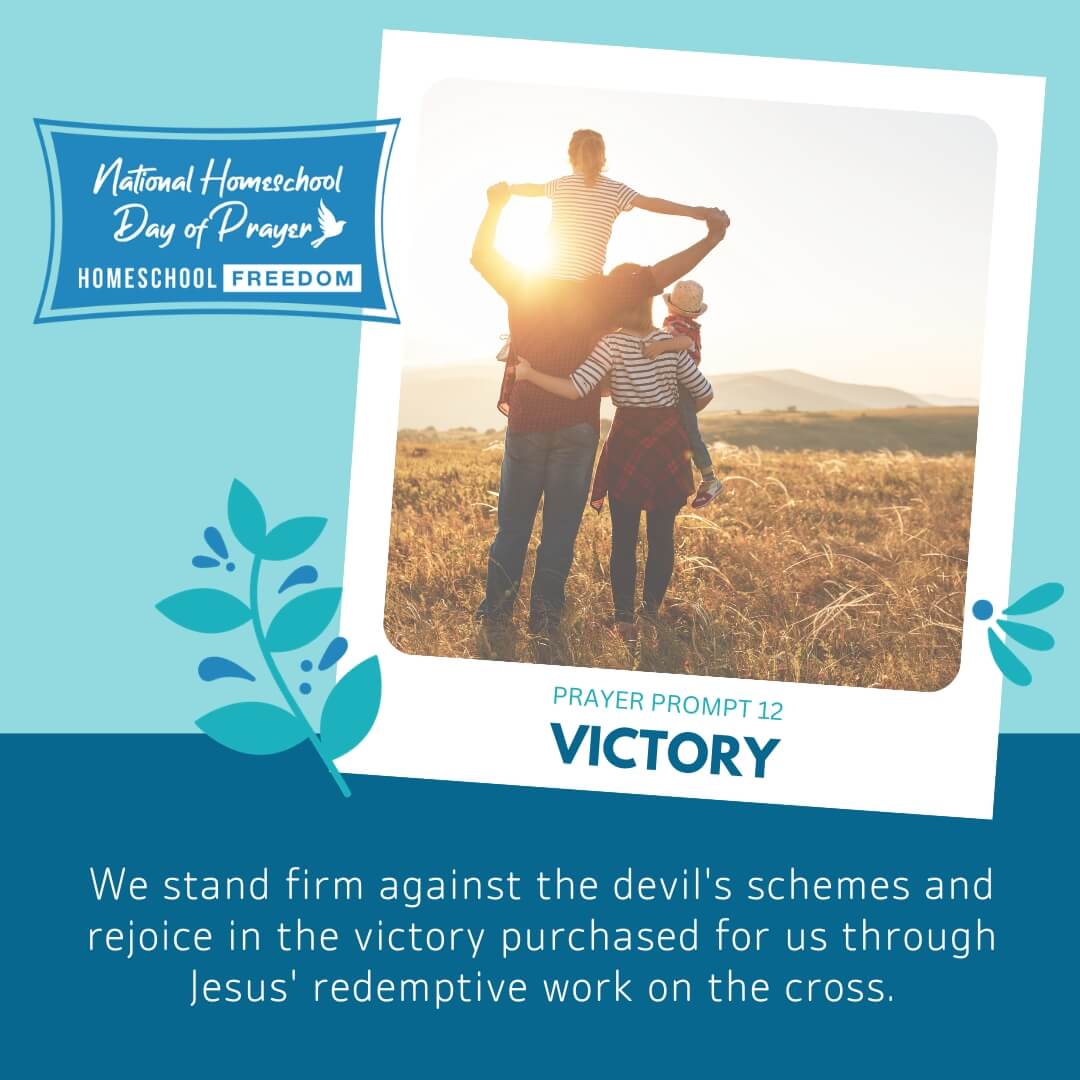 Prayer Prompt 13
The Holy Spirit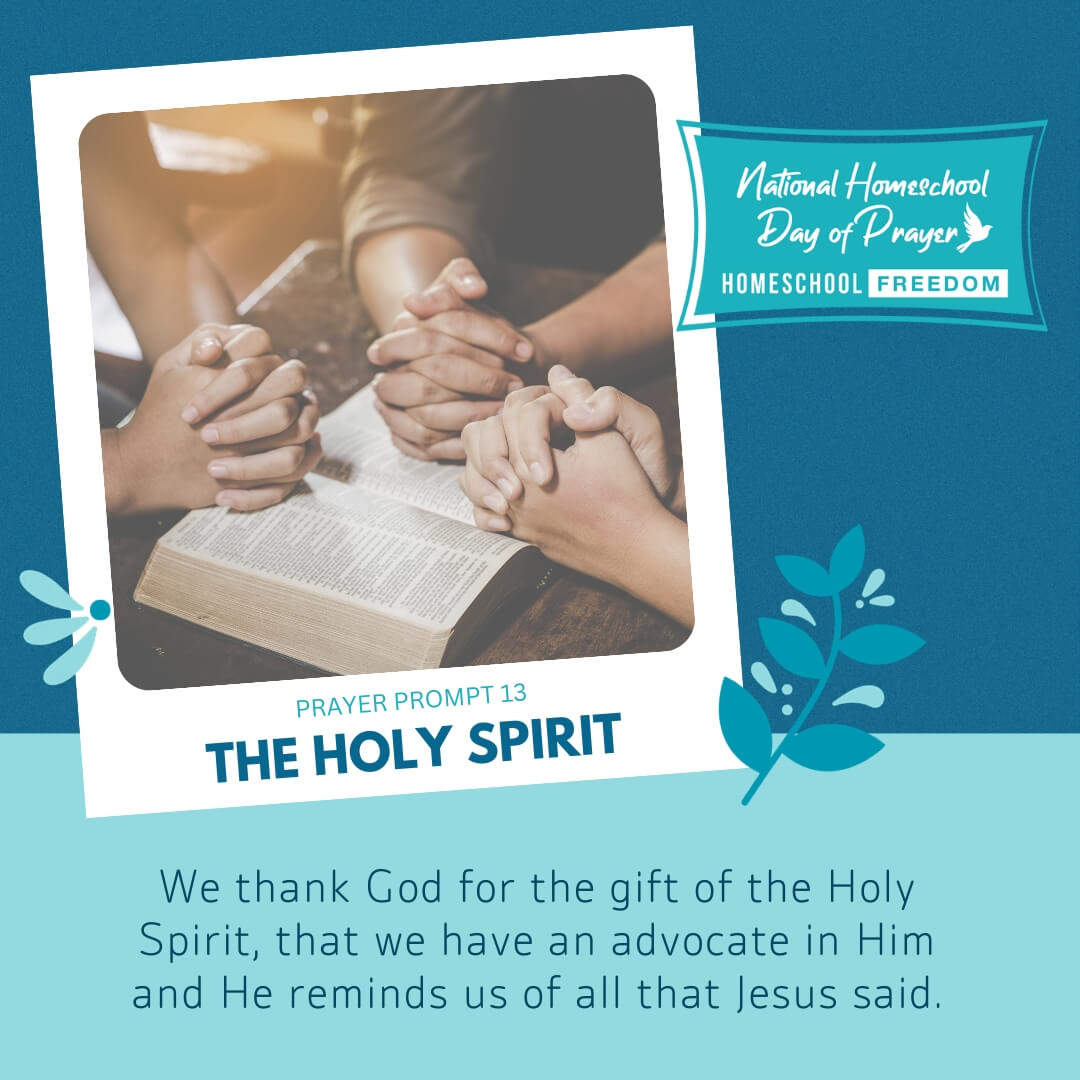 VIDEOS - FACEBOOK LIVE SPECIAL GUESTS
We hope you are encouraged by the special guests who prayed live during the 2023 National Homeschool Day of Prayer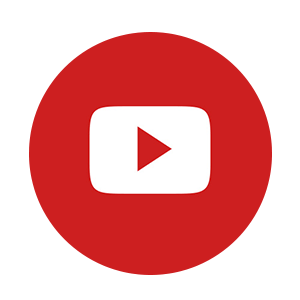 Homeschool Freedom YouTube Channel
Subscribe to the Homeschool Freedom YouTube Channel to enjoy replays of the special guests who prayed during National Homeschool Day of Prayer and for other encouraging video content.
10:00 AM – Welcome
Tara Bentley & Nancy Manos
10:30 AM – Gratitude
Rob & Jen Snyder (NY)
10:30 AM – Freedom
The Meyer Family (OR)
12:00 PM – Children
Yvette Hampton, Schoolhouse Rocked
1:00 PM – Our Witness
Israel Wayne (MI)
2:00 PM – Provision
LaNissir James (MD)
3:00 PM – Wisdom
Jim & Debbie Mason, HSLDA
3:30 PM – Wisdom
Katie, Karen, & Bill Ward (MO)
4:00 PM – Protection
Dr. Cindy Briggs & Jackson (IN)
5:00 PM – Grace-Filled Homes
Deborah Wuehler, The Old Schoolhouse
6:00 PM – Our Ministry
Cam Leedahl (ND)
7:00 PM – Relationships
Ginger Wayde (PA)
8:00 PM – Our Nation
Brad Touchet (VA)
10:00 PM – Thank You for Joining Us!
Tara Bentley & Nancy Manos
NHDP Leaders' Toolbox
We've put together a resource page for statewide homeschool organization leaders and others who wish to help promote this special day of prayer.  The leaders' toolbox includes a variety of graphics you can download to promote the National Homeschool Day of Prayer. Thank you for helping to spread the word and encouraging homeschool families worldwide to join us.