What is the National Homeschool Day of Prayer?
The first Friday of November each year is declared as a National Homeschool Day of Prayer by the National Alliance of Christian Home Education Leadership. Join us in praying Friday, November 1, 2019.  
We will share hourly prayer prompts on the Homeschool Freedom Facebook page starting at 10:00 AM EST. Prayer prompt graphics will be posted on this page closer to the event as well. Be sure to like and follow the Facebook page to get all of the notifications. Invite your friends and family to pray as well!
Bundle Giveaway
Goes Live October 25th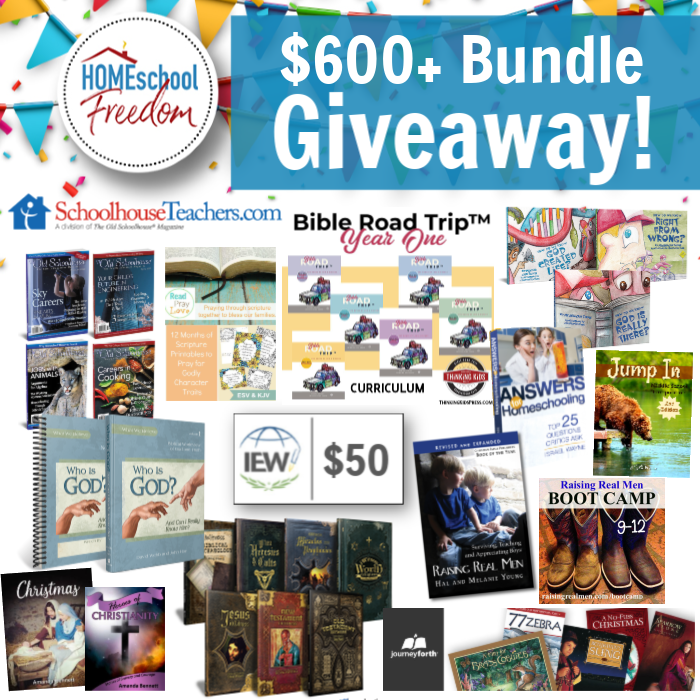 Enter to Win the National Homeschool Day of Prayer Bundle Giveaway!
You won't want to miss this BIG giveaway going live on October 25th!
One winner will 

receive the following: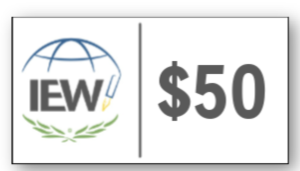 Gift card from Institute for Excellence in Writing (IEW) ($50 value) – IEW's unique approach provides the structure that students need to develop confidence in the writing process, while gradually guiding them toward greater independence and creativity. Their core writing program is supported by materials for reading, grammar, spelling, literature, poetry, public speaking, and more.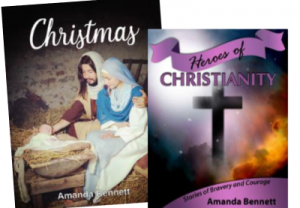 Heroes of the Bible and Christmas unit studies from Unit Studies by Amanda Bennett ($31.90 value) – Amanda Bennett Unit Studies work by capturing a child's attention and helping them understand the pieces of the whole as they fit together. With over 100 studies in their store, they help children become self-motivated learners, eager to explore God's creation. This Heroes of the Bible and Christmas unit studies will help your children enjoy learning!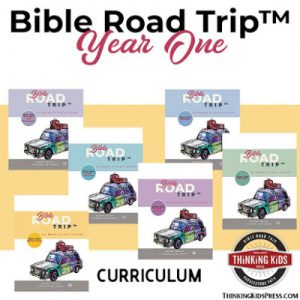 Bible Road Trip Year 1 Family curriculum from Thinking Kids Press ($125 value) – Bible Road Trip™ is an engaging, fun, three-year Bible survey curriculum for preschool through high school. That means that if you start in preschool, you can take your child all the way through the Bible five times by the time he or she graduates from high school. Paired with leveled notebooking journals and Bible memory verse card sets, Bible Road Trip™ is a full solution for your family's Bible teaching needs!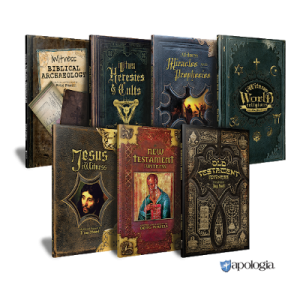 iWitness Series from Apologia ($59 value) – The Bible claims to record very real history. Names, places, and events are all part of God's revelation of Himself to the world. For centuries many of these people and places were lost to history and known only through Scripture. But archaeological discoveries reveal that the Bible is incredibly accurate. Venture into the field and experience many of the most important finds with these books!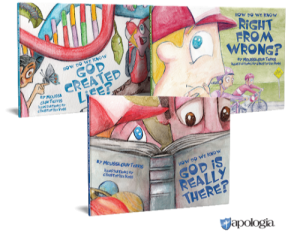 Young Defenders Series from Apologia ($36 value) – This series is designed to teach the fundamentals of Christian apologetics to young children in an exciting and kid-friendly way. Beautiful illustrations and fun characters are used to cover topics like: Does God exist? Did God create life? Can we know right from wrong?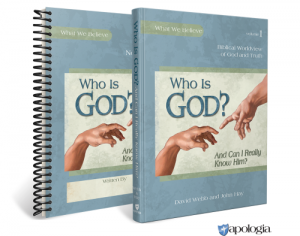 What We Believe Advantage Set (winner's choice of volume), which includes the textbook and notebooking journal, from Apologia ($63 value) – The What We Believe series is an outstanding way to teach children the essential beliefs of the Christian faith, but it's so much more! With this beautifully illustrated Bible-based curriculum, your children will learn to use Scripture as the perfect lens through which to view the world around them and stand firm in the truth. Featuring engaging stories, creative notebooking, and fun activities, this four-part series is presented in a conversational style that makes the study of God's Word exciting and memorable for the whole family!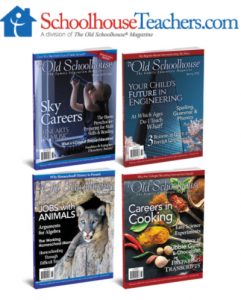 1-Year Ultimate Membership & Print Magazine Subscription from Schoolhouse Teachers ($179 value) – A Schoolhouse Teachers membership includes hundreds of Christian, self-paced online homeschool courses with customizable curriculum that can be used as a base for your homeschool or as a supplement. All major subjects and grades are covered, giving you a comprehensive resource at an affordable price. Win a year membership plus a print magazine subscription for This Old Schoolhouse magazine!

Journey Forth series of 8 youth literature books from BJU Press Homeschool / Homeworks by Precept ($59 value) – JourneyForth Books publishes fiction and nonfiction that reflects a worldview based solidly on the Bible and that encourages Christians to live out their faith. Located in Greenville, South Carolina, JourneyForth is a division of BJU Press, which publishes of a full line of K–12 textbooks for Christian schools and homeschools.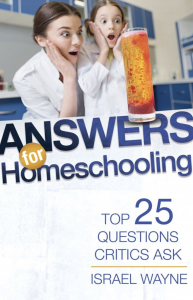 Answers for Homeschooling: Top 25 Questions Critics Ask from Israel Wayne of Family Renewal Ministries ($12.99 value) – You've made the decision to homeschool. Suddenly, you find that some of those who were once in your corner supporting you are now questioning your competency as a parent and maybe even your sanity. Their lack of confidence may sting, but in reality, the critic provides a wonderful opportunity to replace fear and stigma with truth and reality. This book equips you to answer the critic in your life with resolve and confidence.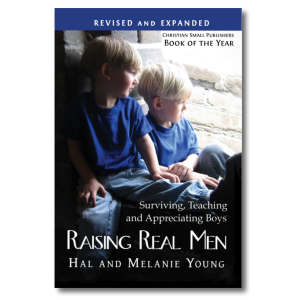 Signed copy of the new edition of Raising Real Men Hal and Melanie Young of Great Waters Press ($15 value) – A Practical Guide to Equipping the Hearts and Minds of Boys without Losing or Breaking Your Own, Raising Real Men is the 2011 Christian Small Publishers Book of the Year by Hal & Melanie Young, parents of six boys (in a row!) and two girls. Get the 10th Anniversary 2nd Edition, signed by the authors.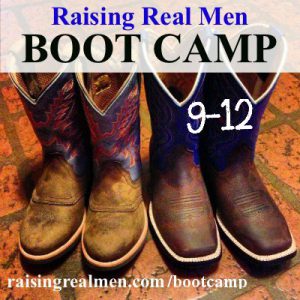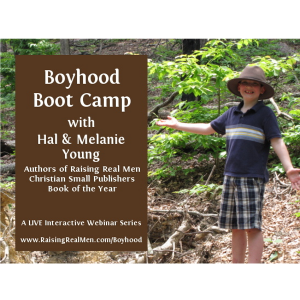 Parenting Boot Camp (winner's choice of Boyhood Boot Camp or Raising Real Men Boot Camp 9-12) by Hal and Melanie Young of Great Waters Press ($32 – 39 value) – These parenting boot camps give you what you need to handle parenting challenges in a godly way. You'll have personal access to Hal & Melanie to ask questions in the live sessions as they help you not just understand your guys, but raise them to be godly men.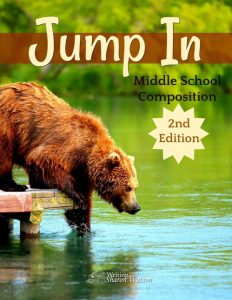 Jump In, 2nd edition by Writing with Sharon Watson ($40 value) – Jump In, 2nd Edition is the writing curriculum your middle school student will use! Easy, bite-sized lessons guide your student through the complexities of writing essays and the finer points of writing.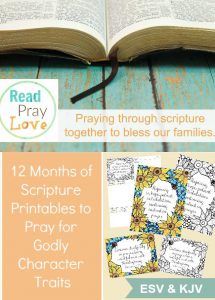 Praying for Character 12-Month Scripture Printable Pack Proverbial Homemaker ($27 value) – A full year of printable packs to pray through different godly character traits for your family. The 12 packs each focus on a different character trait and include custom illustrated scripture art prints and coloring pages, memory verse cards, and journal pages to help you read, memorize, and pray through these beautiful scriptures.
Enter the Giveaway Here! 
Giveaway Terms and Disclosures 
Must be 18 or older to enter and a resident of the U.S. Giveaway ends November 8th at 11:59PM PST. Winner will be notified via email and will have 24 hours to reply before a new winner is chosen. Giveaway sponsors are solely responsible for the fulfillment of their contributed prize. ***By entering this giveaway you agree that your email address will be subscribed to the email list for your Alliance-affiliated Christian state homeschool organization, if one is available in your state, as well as to the Homeschool Freedom email for notifications on future National Homeschool Day of Prayer events. We respect your privacy and will not send spam. You can unsubscribe at any time.
Daily Flash Giveaways
October 25 - 31
We'll also be hosting FLASH GIVEAWAYS and FREEBIES every day on the Homeschool Freedom Facebook page from October 25 – 31! 
Be sure to set notifications so you see all the posts from Homeschool Freedom on FB! You won't want to miss any of the flash giveaways or prayer prompts for the prayer event