Michigan's Annual Homeschool Conference
18mayAll Day20Michigan's Annual Homeschool Conference
Event Details

Psalm 86:11 Teach me your way, O Lord, that I may walk in your truth
May 18-20, 2023
Teaching our children can be…complex, AND an amazing journey filled with joy and love– BUT it is not meant to be walked alone.

Come, walk with other Michigan homeschool families find STRENGTH & Truth in community.

Do you wonder if you are doing the right thing? Do you doubt your own abilities? Or perhaps you're still deciding whether you want to homeschool.

You are not alone.

Our amazing Speakers will encourage you and give you practical ideas to continue walking this journey with your children.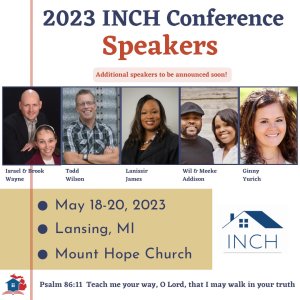 more
Time

may 18 (Thursday) - 20 (Saturday)
Location

Lansing, MI

202 S Creyts Rd
Organizer

WHO & WHAT IS MICHN? The Michigan Christian Homeschool Network, founded in 1984 as INCH - the Information Network for Christian Homes and rebranded in 2019 as MICHN (pronounced like "mission"), is the oldest and largest homeschool organization serving Michigan families. OUR VISION Every Michigan family who chooses to educate their children at home has the resources, support, and opportunities they need to do so with excellence. OUR MISSION Ensuring homeschool freedom in the state of Michigan so that it can be a place for families to freely pass on their values and faith, training their children through home-based, parent-directed, privately-funded home education. OUR METHOD Encouraging, equipping, and empowering Michigan's home educators through: · Conferences/Events (INCH, MY Conference, Day at the Dome, Mom's Retreat) · Communication (Website, social media, e-newsletters, etc) · Connecting (Networking families, groups, and leaders) · Cultivating Leadership (Leadership Summits and Retreats) · Consistent Voice in the Capitol (Protecting freedom) OUR FOCUS Although we desire to serve all home educating families in Michigan, MICHN particularly focuses on assisting Christian homeschooling families who desire to raise and launch mature disciples of Christ. · FAITH – Promoting Christian home discipleship · FAMILY – Preserving the traditional family · FREEDOM – Protecting our homeschool freedom
517.481.5994
4407 W St Joseph St Lansing, MI 48917